Fatima Morocco's Babouches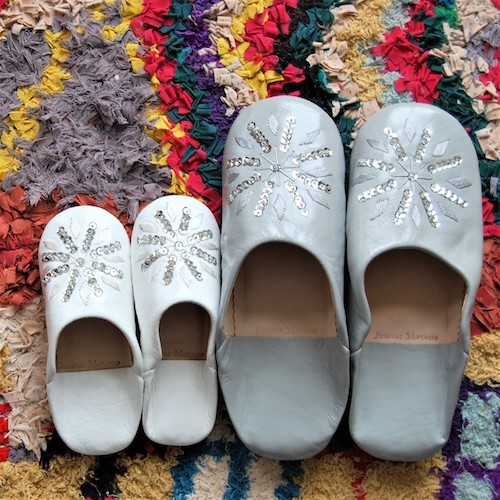 Babouche are traditional Moroccan leather slippers. The name is said to derive from the Persian word for "covering the foot". In Morocco these slippers are called "bolgha" and are used as outdoor footwear, while in Japan they are mainly popular for indoor use.
Babouche are made of goatskin, sheepskin, cowhide or camel hide. After the leather is tanned in a traditional manner that is said to date back to the 14th century, it is traded on the souq (market). At Fatima Morocco we are particular about the use of soft and smooth high-quality sheepskin with a fine-pored surface. The leather is cut after colouring, and the instep is decorated with a pattern. After embroidery and sequins are applied by a Moroccan woman, the size is adjusted through repeated sewing and cutting.
Meanwhile, the leather is softened with water and soft insoles are inserted to finish a pair of babouche, a mind-boggling process in which many craftsmen are involved. The soft feeling around the feet brings the ultimate bliss, however, the shape, comfort and lifespan largely depends on the skill of the craftsmen.
The babouche of Fatima Morocco are 100% produced in-house. We work directly with the craftsmen with whom we fostered a trusting relationship through close communication over many years and by establishing local workshops. Enjoy the high quality standard realized by the love and responsibly of the craftsman for their work.
Sequin babouche Light Blue

Hand embroidered with sequins slippers. The material is sheep leather.
Size : M 35-37, L 37-40● Because we do not venture in artificial deodorization, our babouche have the peculiar scent of natural leather. Especially…

€ 36,95

Sequin babouche White

Hand embroidered with sequins slippers. The material is sheep leather.
Size : M 35-37, L 37-40● Because we do not venture in artificial deodorization, our babouche have the peculiar scent of natural leather. Especially…

€ 36,95

Sequin babouche Black

Hand embroidered with sequins slippers. The material is sheep leather.
Size : M 35-37, L 37-40● Because we do not venture in artificial deodorization, our babouche have the peculiar scent of natural leather. Especially…

€ 36,95

Cat babouche Pink x White

Hand embroidered Slippers. The material is sheep leather.
Size : M 35-37, L 37-40● Because we do not venture in artificial deodorization, our babouche have the peculiar scent of natural leather. Especially immediately after…

€ 36,95

Cat babouche White x Yellow

Hand embroidered Slippers. The material is sheep leather.
Size : M 35-37, L 37-40● Because we do not venture in artificial deodorization, our babouche have the peculiar scent of natural leather. Especially immediately after…

€ 36,95

Cat babouche White x Black

Hand embroidered Slippers. The material is sheep leather.
Size : M 35-37, L 37-40● Because we do not venture in artificial deodorization, our babouche have the peculiar scent of natural leather. Especially immediately after…

€ 36,95

Babouche simple Navy

Handmade simple slippers. The material is sheep leather.
Size : L 37-40, XL 41-44, XXL 44-47● Because we do not venture in artificial deodorization, our babouche have the peculiar scent of natural leather. Especially immediately…

€ 36,95

Babouche simple khaki

Handmade simple slippers. The material is sheep leather.
Size : L 37-40, XL 41-44, XXL 44-47● Because we do not venture in artificial deodorization, our babouche have the peculiar scent of natural leather. Especially immediately…

€ 36,95

Babouche simple Brown

Handmade simple slippers. The material is sheep leather.
Size : M 35-37, L 37-40, XL 41-44, XXL 44-47● Because we do not venture in artificial deodorization, our babouche have the peculiar scent of natural leather. Especially…

€ 36,95

Babouche simple White

Handmade simple slippers. The material is sheep leather.
Size : M 35-37, L 37-40, XL 41-44● Because we do not venture in artificial deodorization, our babouche have the peculiar scent of natural leather. Especially immediately…

€ 36,95

Babouche simple Black

Handmade simple slippers. The material is sheep leather.
Size : M 35-37, L 37-40, XL 41-44, XXL 44-47● Because we do not venture in artificial deodorization, our babouche have the peculiar scent of natural leather. Especially…

€ 36,95

Smiley babouche Black x White

Hand embroidered Slippers. The material is sheep leather.
Size : L 37-40, XL 41-44● Because we do not venture in artificial deodorization, our babouche have the peculiar scent of natural leather. Especially immediately after…

€ 36,95

Tassel babouche Gray

Handmade slippers with tassel.The material is sheep leather.
Size : M 35-37, L 37-40● Because we do not venture in artificial deodorization, our babouche have the peculiar scent of natural leather. Especially immediately after…

€ 34,95

Sequin babouche Black

Hand embroidered with sequins slippers. The material is sheep leather.
Size : M 35-37, L 37-40● Because we do not venture in artificial deodorization, our babouche have the peculiar scent of natural leather. Especially…

€ 36,95

Kids' smiley babouche Black x White

Hand embroidered slippers for kids. The material is sheep leather.
Size : M (Kids) 26-29, L (Kids) 29-31● Because we do not venture in artificial deodorization, our babouche have the peculiar scent of natural leather. Especially…

€ 24,50 € 16,95

Kids' smiley babouche Blue x Sirver

Hand embroidered slippers for kids. The material is sheep leather.
Size : M (Kids) 26-29, L (Kids) 29-31● Because we do not venture in artificial deodorization, our babouche have the peculiar scent of natural leather. Especially…

€ 24,50 € 16,95

Kids' smiley babouche White x Black

Hand embroidered slippers for kids. The material is sheep leather.
Size : M (Kids) 26-29, L (Kids) 29-31● Because we do not venture in artificial deodorization, our babouche have the peculiar scent of natural leather. Especially…

€ 24,50 € 16,95

Kids' sequin babouche Black

Hand embroidered with sequins slippers for kids. The material is sheep leather.
Size : M (Kids) 26-29, L (Kids) 29-31● Because we do not venture in artificial deodorization, our babouche have the peculiar scent of natural…

€ 24,50 € 16,95

Kids' sequin babouche Natural

Hand embroidered with sequins slippers for kids. The material is sheep leather.
Size : M (Kids) 26-29, L (Kids) 29-31● Because we do not venture in artificial deodorization, our babouche have the peculiar scent of natural…

€ 24,50 € 16,95

Kids' sequin babouche Pink

Hand embroidered with sequins slippers for kids. The material is sheep leather.
Size : M (Kids) 26-29, L (Kids) 29-31● Because we do not venture in artificial deodorization, our babouche have the peculiar scent of natural…

€ 24,50 € 16,95

Kids' sequin babouche White

Hand embroidered with sequins slippers for kids. The material is sheep leather.
Size : M (Kids) 26-29, L (Kids) 29-31● Because we do not venture in artificial deodorization, our babouche have the peculiar scent of natural…

€ 24,50 € 16,95