Fatima Morocco's Baskets and Bags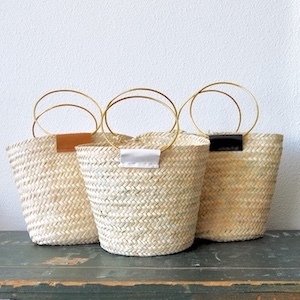 The Moroccan basket that also enjoys popularity under the name "marche bag" or "basket bag" is made of straw materials such as date palm leaves, grass called dum or water plants. First, the material is knitted into strips and woven together from the bottom to form a basket. Especially because the baskets are handmade of natural materials that can only be obtained in a specific year, each basket has a tasteful one-of-a-kind design.
By adding the essence of Europe we hope that you can enjoy various combinations that are fashionable and/or tailored to a scene; Fatima Morocco proposes new basket designs for each season in addition to simple everyday baskets. The work of applying sequins and beads, as well as the embroidering with wool is all done manually by Moroccan women. Storage is not necessarily the only function of baskets for interior use, they can also serve as an accent in the room. Similar to leather products, the baskets become more beautiful in use and adapt well to fashion and interior. We hope you will find a favourite basket to appreciate for a long time.