Fatima Morocco's Rug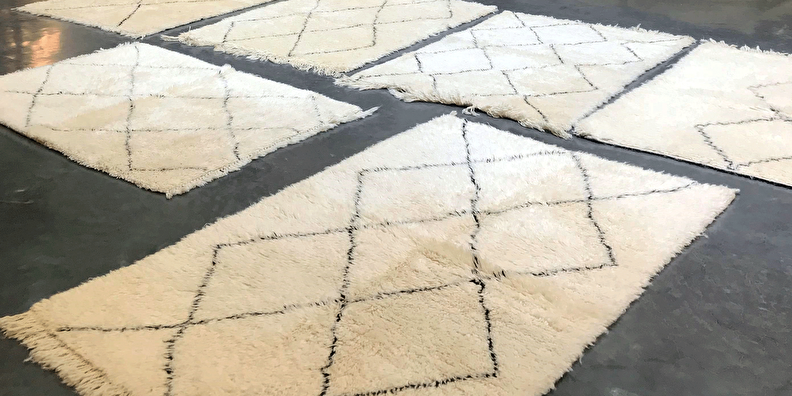 The embodiment of Moroccan handicrafts are rugs. The style varies depending on the region where they are woven. All rugs in the collection of Fatima Morocco are hand-woven and one-of-a-kind. Although there are various larger and smaller sizes, one rug can turn a room into a stylish place.
Beni Ouarain : These rugs are woven in a village called Beni Ouarain in the north-eastern part of the Middle Atlas. Beni Ouarain rugs are characterized by undyed natural colours deriving from the original beige and brown colour of the wool, as well as the length of their rich and fluffy hairs. They are modern and attractive. Many were made between the 60s and 70s and nowadays it is hard to find older ones in good condition. Among newly made Beni Ouarain rugs, there is a style with the most beautiful colours (i.e. blue).

Boucharouette : Boucharouette are recycled rugs that have been made all over Morocco for half a century. Women cut worn-out clothes into pieces and tie them one by one to a warp (boucharouette means "worn-out clothes/worn cloth" in Moroccan dialect), and colourful patterns are drawn with motifs such as rhombuses by making full use of the imagination with limited means. Reflecting the Moroccan taste for fashion, nowadays many boucharouette have vibrant colours. Boucharouette are made by poor families with limited resources for purchasing the materials for household rugs (i.e. wool). Normally the features of these rugs differ per region, but they can be found throughout Morocco. Some are made of cloth alone, whereas others are mixed with precious wool. Each of these recycled rugs is unique and they are still being made by women from the north to the south.
Rug Boucharouette 03

Boucharouette are recycled rugs of only one pattern in the world. It is suitable for interior accents.

Click here for rug
Size : 145×235cm● Please understand that rug is handmade item of natural materials.
● Because of…

€ 499,00 € 245,00